Value Chain Development and Innovation
Create a manufacturing small scale industry for the Mothers Touch products
Create a localized and personalized placement service
Systemize with a feedback loop to ensure quality
Dr. Rekha Chaudhari has learned, researched, developed, and mastered the concept of Mothers Touch throughout her professional journey. With her personal exposure to these rituals in her village and her expertise and knowledge in the global wellness industry, she has been able to frame out the best practices from the rituals practiced in ancient India to look after newborns and the modern mothers. 
Through Mothers Touch, Dr. Rekha Chaudhari not only aims at reviving the traditional post-partum care practices of India but at the same time her vision is to promote women empowerment. Mothers Touch is creating a platform for women to work thereby becoming self-sufficient and supporting their families.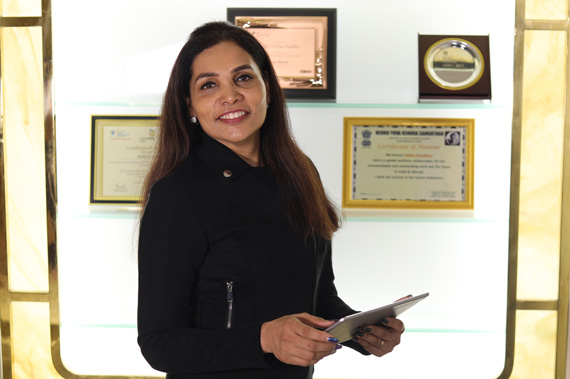 Train the care-giver 'The Mothers Touch Dai' to massage babies of parents who are unaware of this skill.
Generate employment on a large scale for rural women in sectors that they are comfortable with.
Pass on the Traditional secrets to the new mothers and ease the child birthing process.
Goals to Accomplish:
Generating jobs and income for rural women to make them self-sufficient
Reducing poverty by creating jobs for the most vulnerable sections of society
Creating a large number of sustainable jobs with a decent pay by meeting the gap between demand and supply of service providers for infant massage
Women empowerment and self-esteem among rural women
Supporting in making the next generation healthier
Helping in the effective recovery of mothers after childbirth
Assisting in creating a strong emotional bond between the mother and the child and helping in the development of the child through the concept of loving touch
Innovating and developing a value chain that energizes the economy
Creating outcome-oriented and innovative public-private partnerships covering funding partners from international, national, and local governmental organizations, industries, and venture capitals
Mothers Touch Foundation introduced a first-time innovative study catering to the impact of Indian postpartum care on women's psychological functioning. The research has received much recognition and acclaim at an international level, which promises a future with unmatched post-partum care for both mother and child for the modern urban mothers.
Mothers Touch Foundation is creating an environment to bridge the gap between traditional post-partum care practices and modern views about mothers and childcare. It is educating today's mothers and their families with scientific evidence of the benefits of the traditional Indian practices of child and mother care and encouraging them to accept these practices.
Benefits for the Mother and the Child
With a Focus on Safety, Sanitation & Hygiene
It is building a community of professional birth attendants called Dais, who are trained with a focus on sanitation and hygiene, an issue that had led to the discontinuation of the valuable Indian practices. This is a step towards recreating a society that adheres to the best Indian traditional practices of mother and child care.
With Research-based Scientifically approved Practices
Through its study, Mothers Touch Foundation is creating an avenue to help new mothers with their health and provide research-based postpartum services, which can significantly decrease the common complications during the post-partum phase and increase a mothers' satisfaction as far as she and the baby's health is concerned.
Focus on Skill Development and Self- Esteem for Women in Rural India
The contribution of Mothers Touch Foundation is paving a path towards:
Reducing gender equality by training and preparing the rural as well as urban women for jobs with a decent wage
Lowering income inequality by generating respectable income for vulnerable sections of society
Creating a service that low, medium, and high-income families can all benefit from